Abandon Ambition
~ The art of Dana M Teixeira ~
Illustrations and designs featuring fierce animals and wise beasts,
made with reckless abandon and no ambition.
~ About all this ~
"The canvas dictates teeth and lines, and I obey in its confines." I am an artist who loves dark, precise line work, bold-colored fills, and subtle gradients, bringing anything beastly and imaginary to life. My creations are typically digital, but often find their way onto traditional materials, stickers, prints, accessories, and more. I'm from the US but currently reside in France.Ambitions and goals are wonderful things to have, but they don't always stand up to global financial crises, worldwide pandemic lockdowns, supply chain shortages, melting glaciers... To Abandon Ambition is to acknowledge that the future will never be yours, though the present still is. I create what the canvas dictates in the present moment, with reckless abandon and no ambition.
~ Stay updated ~
Join my twice-monthly newsletter to stay on top of new art, merch discounts, commission openings, event appearances, and more.
You can unsubscribe at any time.
Commissions
While my availability to take on commissions is rare, I do love bringing others' characters and imaginations to life when I can. Below are some projects I offer.
Prices are in Euro (with a USD estimate for convenience) and may be re-assessed every 3 months (typically at the end of January, April, July, and October). Quotes are good for 4 months from the moment they are delivered.
Current commission status
Current availability: OPEN
Join my newsletter below to catch when I open for commissions.
You can unsubscribe at any time.
---
"Instant order" (wing it) commissions
My "instant order" commissions are simple and do not come with edits or reviews, thus keeping the cost low and allowing them to be ordered "instantly" without discussion.
This commission type is known by some as a "wing it."
Postcard Ink COmmissions
From $26 per month
or ~$258 yearly (get two postcard commissions free)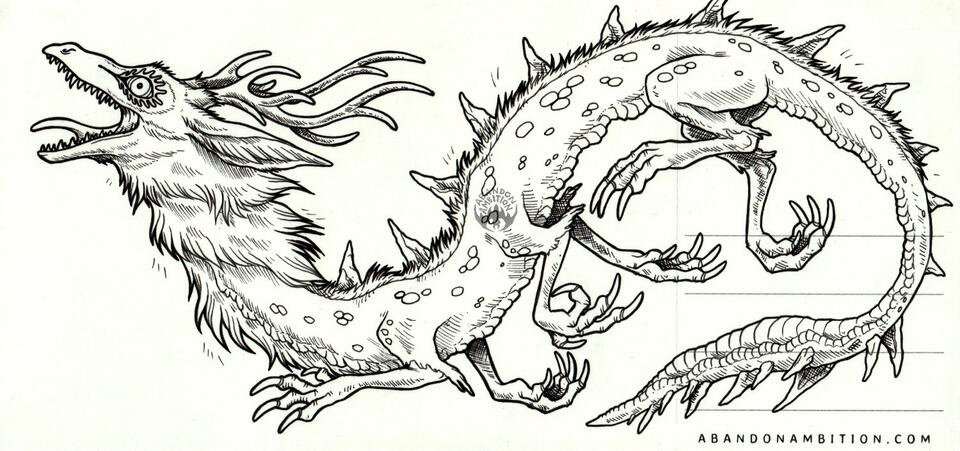 Available for Patreon and Ko-Fi subscribers and event attendees ONLY, my postcard ink commissions are a semi-exclusive collectable featuring your drawing request in ink on one side and an art print designed by yours truly on the other.You can subscribe and unsubscribe as you like when ordering on Patreon or Ko-Fi. An annual Patreon membership gives you a discount equalling TWO FREE POSTCARDS, which is my way of saying thanks for the longer-term support that helps me plan my business finances.
Postcard inks sold at my event appearances are €45.
Ko-Fi Commissions (PWYW • Wing-it)
from 20€/$20
My instant order digital Ko-Fi commissions feature as much or as little of your character as you like, from a basic sketch to a fully rendered drawing, based on your spend.Below is a table describing what different spends will get.
| Scope | ✏️ Sketch | 🎨 Basic Color | 💖 Details |
| --- | --- | --- | --- |
| Portrait/Headshot | 20-49€ / $22-53 | 50-79€ / $54-85 | 80-109€ / $86-117 |
| Half Body | 50-79€ / $54-85 | 80-109€ / $86-117 | 110-149€ / $118-160 |
| Full Body | 80-109€ / $86-117 | 110-149€ / $118-160 | 150-200€ / $161-215 |
| Banner Animal (Instant Order) | 145-179€ / $152-188 | 180-214€ / $189-225 | 215-300€ / $226-315 |
---
"Bespoke" commissions
My "bespoke" commissions are much more customized to your unique wishes and thus include a set number of concept sketches, edit reviews, and more discussion between us.
Banner Animals
from 350€/$375
Animals or mythical creatures carrying a banner with words of your choice written on them.
Something else?
Pricing based on project
I create beer labels, shirts, and other custom designs. Let's chat!
Upcoming Events
Come visit me in person! Below are my planned appearances where you can meet me, talk about whatever, and buy my work without having to wait on the post.
| Event | Dates | Location | Status | Where to find me |
| --- | --- | --- | --- | --- |
| Midwest Furfest | 30 Nov - 3 Dec 2023 | Chicago, IL USA | APPROVED | Art Show (pieces showcased via agent) |
| Geek Days: LIlle | 2 - 3 Dec 2023 | Lille, FRANCE | ATTENDING | Creative Corner |
| Geek Days: Rennes | 17 - 18 Feb 2024 | Rennes, FRANCE | ATTENDING | Creative Corner |
| Nordic Fuzz Con | 21 - 25 Feb 2024 | Malmo, SWEDEN | ATTENDING | Dealer's Den |
| Fauntastic | 29 Mar - 2 Apr 2024 | Lyon, FRANCE | ATTENDING | Dealer's Den |
More events to be announced, soon! Join my newsletter to get my latest updates.
Stay updated on my next appearances
Join my newsletter below to stay up to date on my event calendar.
You can unsubscribe at any time.
Say hi
Curious about how I create? Want to request a custom commission? Something else? Reach out to me below - I aim to respond to all messages within 3-5 business days.
Alternatively, you can contact me directly via email@abandonambition.com.
Terms of Service
Eligible signees
I do not accept commissions of any kind from minors, defined as those to be under 18 years of age.I do not accept commissions of any kind on behalf of a minor via their parent or guardian. You may choose to gift the resulting commission to whomever you choose at your own discretion after its completion, however all communication and decision-making concerning a project must be done with clients aged 18+ only.
TLDR: You must be 18+ to agree to a contract with me for any commission.
Agreement to these terms
Upon hiring me to complete a piece (defined by establishing a written agreement and paying the first or full payment), the client agrees to the terms outlined below. These terms are subject to change, however any clients will be notified ahead of time. Any terms agreed upon prior to the start of a project shall hold for that individual project unless otherwise discussed with the client.Unique terms for individual projects may be discussed in writing, typically over email. In such cases, those terms supplement the terms described here and hold for their designated projects.The terms described here hold unless otherwise communicated between myself and the client. Unique terms supplemental to those described here must be documented (via email, text, chat client, or other digital and recordable means), with confirmation replies from both client and myself.Paper receipts shall suffice as documentation of supplemental terms and agreements where email communication is inconvenient or unnecessary, such as conventions and events. I encourage clients to make digital facsimiles of paper receipts, e.g. via cameras, smartphones or scanners.
TLDR: We both need to agree to the full terms of the project, in writing.
Quotes
Quotes are valid up to 4 months after they are delivered in writing.
TsDR: If I give you a price quote, you have up to 4 months to buy your commission at that price. After 4 months, my prices may have changed, and I'll need to issue you a new quote.
Ownership & Display of Work
I retain the rights to display any completed work in my personal galleries as portfolio samples unless otherwise discussed and agreed-upon with the client.The client holds the same rights to display my work at their discretion, provided it is not in a place or manner that is harmful to my name, brand or reputation, and provided that I am listed as the creator of the piece in a clearly displayed way.I also retain the right to use rejected WIPs or thumbnail sketches in new pieces including new commissions with other clients, share WIPs or early access with my paying patrons on Patreon, live stream work on commissions via Twitch, YouTube, Twitter or other means, unless otherwise discussed and agreed-upon with the client.I reserve the right to create and sell prints or other duplications of completed work unless otherwise discussed and agreed-upon with the client in writing.The client does not have permission to duplicate or sell duplications my works in any way unless otherwise discussed and agreed-upon in writing.If the client would like the right to modify completed works they have purchased (e.g. add color to an inked piece), this must be discussed with me for written confirmation and permission.The client is free to sell their original of traditional-medium commissions, such as sketches or inks on paper (e.g. if the original is a physical item).
TLDR: I hold commercial rights to your commission, meaning I can make and sell things like prints with the art, unless you buy those commercial rights (see "fees" below). I may show WIP previews or live stream my progress on your commission, unless you pay to keep it private (see "fees" below).
Tattoo or Personal Use Policy
I frequently get asked about using my existing work as tattoos or other personal use projects. Here is my general policy around that:
1. Please ⚠️ contact me first ⚠️ (in all cases!) for permission in using one of my designs as a tattoo or any other personal use. My email is the first link below.2. Buy a tattoo pass (see links below)! This directly supports my work, and I can send you a hi-res version of the line art to share with your tattoo artist after you buy a tattoo pass from me.3. Send me a photo after you have the tattoo finished. It doesn't need to include your face or any revealing details, I'd just like something to share on my social networks.
TLDR: Please don't get my art inked on you without contacting me first.
Payments
Payments are to be made via PayPal, or SumUp or cash in the local currency if in-person. Refunds will be made in the same mode cash was received unless otherwise discussed with the client.I cannot issue refunds once commission terms have been agreed on and first or full payment has been made, unless I agree to end the project or more than 4 months have lapsed and I have not yet begun the project (see "deadlines" below).
TLDR: I use PayPal and SumUp only, or cash in the local currency when in person. I can't refund you if you suddenly decide to back out of the commission after we've both agreed to it and you already paid.
Fees
Additional fees do not apply to the vast majority of my commissions. Please ask if you are unsure.Certain circumstances may warrant an additional fee or charge. These are outlined below and are subject to change, and may be altered or waivered at my discretion. In some cases, more than one fee applies. Other fees not listed here may apply. All fees will be discussed with the client prior to commencing the project.
| Fee/Charge | Conditions | Added Cost |
| --- | --- | --- |
| Commercial rights | You would like commercial rights of the commissioned piece; However, I retain the right to advertise the piece and display it in my portfolio. | +375€ |
| Private Commission until completion/certain date | You do not want your commission to be revealed to the public (via WIPs, livestreaming or sharing with my Patrons) until the piece is fully complete or after a certain date within a year or less from completion. | +20% of quote |
| Totally Private Commission + Commercial Rights | You do not want your commission to be revealed to the public by myself at any point in time (i.e. I do not get to advertise or display it in my portfolio, nor sell prints). | +100% of quote and +375€ |
TLDR: If you want the commercial rights to your commission to sell prints, you need to purchase them. If I'm not allowed to promote myself by sharing previews or live streaming work on your commission, you need to purchase the time and exposure lost for marketing myself.
Edits & Completion
Work on any project does not begin until first or full payment is received and both client and myself have agreed to the project and terms in writing."Instant order" commissions such as sketches and day-of orders (e.g. those ordered & delivered at conventions or other events) are to be paid in full and completed without any edits. Edits may be impossible after such orders are completed depending on mediums used and the nature of the project."Bespoke" commissions may be broken into smaller payments with a preview or progress view after each of the first payment(s) and final product delivered after the final. Written communication between client and myself will describe how payments correspond to previews and how many previews are allowed in a given project.Previews and other works-in-progress images may be displayed on my social media accounts, and may be delivered to the client at my own discretion unless otherwise agreed upon in writing.Any edits requested outside of what has been agreed upon in writing between client and myself are billed at an hourly rate of €45, with each edit billed for a minimum 1 hour.Client must pay in full any invoices for agreed-upon edits after such edits have been completed and reviewed with the client before further work on the project continues.
TLDR: You and I will discuss what's included in your commission (including previews and edits) before I start. I won't start your commission until first or full payment is complete. If you need more edits than what we agreed on, I'll charge my hourly rate.
Deadlines
At conventions and events, I aim to complete pieces before noon of the final day of the event, or by an hour before close of a one-day event. I promise free shipping on any orders ordered at conventions or events that I cannot complete before this deadline.At conventions and events, if I complete the work on time but the client does not collect their commission and is unreachable through our agreed-upon means of communication, they are responsible for paying for shipping costs if they wish to have their commission mailed to them after the event.All other deadlines must be requested by the client and agreed-upon by myself in writing. If no deadlines are discussed, I will complete work as soon as possible (I aim for 2 weeks turn-around time, with 4 months maximum, depending on the project).If the project does have a deadline, client must respond to my questions or requests for feedback in a timely manner (within 2 business days) during the project. Failure to respond will relieve me from liability to meet the deadline by a full 2 weeks per delayed response.If I do not hear from a client for over 4 months, I will consider the project abandoned. Abandoned projects are not eligible for refunds. I may resume abandoned projects on an individual basis at my sole discretion if the client requests it and I agree to resume the work.Should I fail to meet an agreed-upon deadline for which I am liable, I will discuss the matter with the client. The client owns any and all paid work for their project, in progress or completed, by the point of the deadline. If paid-for work is not in a suitable state of completion as agreed upon in writing, I will discuss potential prorated refunds with the client.If I have not begun work on a project within 4 months of receiving first or full payment for it, I will issue a full refund to the client unless we mutually agree to continue the project.
TLDR: You need to discuss any deadlines you have when ordering a commission from me, and I'll tell you if I can meet them or not. If you're too slow to respond to updates and I need for your feedback, I'll extend our deadline.If I miss our deadline or the project is cancelled part-way through, I'll hand over whatever's completed to that point and discuss refunds accordingly.
Shipping & Delivery
I offer free shipping to any custom orders placed at conventions or events that I cannot complete before the event is over. If the commission is completed within an hour before close of a one-day event or before noon of the final day of a longer event, and this is communicated to the client via the agreed-upon means of communication, the client is responsible for picking up their commission before the event is over. Lack of signal/inability to access our agreed-upon communication method is not a valid excuse for being unable to retrieve a completed commission at the event.The client is otherwise responsible for any shipping costs should they choose to receive the original of their ordered piece, where applicable.All clients will receive a hi-res, 300 dpi scan of their project where applicable and when I have resources available (e.g. I may not have access to a scanner at conventions and events, or a project may be too large for conventional scanners).
TLDR: If you order a commission from me at a convention or event, and I do complete it on time but you don't pick it up, you need to pay for shipping. If I don't complete it on time, I'll ship it for free.
Privacy Policy
The following privacy policy covers both my website, https://abandonambition.com, and my business practices in general as it pertains to my collection, storage, use, access and deletion of customer data.
Information I collect
To fulfill your order or complete a commission for you, you must provide me with certain information, such as your name, email address, postal address, payment information, and the details of the product or for the commission that you're ordering.
Why I Need Your Information and How I Use It
I rely on a number of legal bases to collect, use, and share your information, including:
- as needed to provide my services, such as when I use your information to fulfill your order, work on your commission to settle disputes, or to provide customer support;
- when you have provided your affirmative consent, which you may revoke at any time, such as by signing up for my mailing list;
- if necessary to comply with a legal obligation or court order or in connection with a legal claim, such as retaining information about your purchases if required by tax law; and
- as necessary for the purpose of my legitimate interests, if those legitimate interests are not overridden by your rights or interests, such as providing and improving my services. I use your information to provide the services you requested and in my legitimate interest to improve my services.
Information Sharing and Disclosure
Information about my customers is important to my business. I share your personal information for very limited reasons and in limited circumstances, as follows:
- Service providers. I engage certain trusted third parties to perform functions and provide services to my shop, such as delivery companies. I will share your personal information with these third parties, but only to the extent necessary to perform these services.
- Compliance with laws. I may collect, use, retain, and share your information if I have a good faith belief that it is reasonably necessary to: (a) respond to legal process or to government requests; (b) enforce my agreements, terms and policies; (c) prevent, investigate, and address fraud and other illegal activity, security, or technical issues; or (d) protect the rights, property, and safety of my customers, or others.
Data Retention
I retain your personal information only for as long as necessary to provide you with my services and as described in my Privacy Policy. However, I may also be required to retain this information to comply with my legal and regulatory obligations, to resolve disputes, and to enforce my agreements. I generally keep your data for the following time period: 5 years.
Transfers of Personal Information Outside the EU
I may store and process your information through third-party hosting services in the US and other jurisdictions. As a result, I may transfer your personal information to a jurisdiction with different data protection and government surveillance laws than your jurisdiction. If I am deemed to transfer information about you outside of the EU, I rely on Privacy Shield as the legal basis for the transfer, as Google Cloud is Privacy Shield certified.
Specific third-party platforms which I use
I use the following platforms to store your data in the following ways in order to run my business, complete commissions, and fulfill orders:
- Gmail: I may communicate with you via Gmail, and our conversations and all contents therein will be retained within our private email conversations.
- Telegram: I may communicate with you via Telegram in private conversation and we may share files, images, or your personal shipping details with one another.
- Notion: I may store your commission details on my private Notion board in order to track my commission orders and progress.
- Etsy: When you order from my online shop, you will share details such as your name and shipping address in order to allow me to complete your order.
Your Rights
If you reside in certain territories, including the EU, you have a number of rights in relation to your personal information. While some of these rights apply generally, certain rights apply only in certain limited cases. I describe these rights below:
- Access. You may have the right to access and receive a copy of the personal information I hold about you by contacting me using the contact information below.
- Change, restrict, delete. You may also have rights to change, restrict my use of, or delete your personal information. Absent exceptional circumstances (like where I am required to store data for legal reasons) I will generally delete your personal information upon request.
- Object. You can object to (i) my processing of some of your information based on my legitimate interests and (ii) receiving marketing messages from me after providing your express consent to receive them. In such cases, I will delete your personal information unless I have compelling and legitimate grounds to continue using that information or if it is needed for legal reasons.
- Complain. If you reside in the EU and wish to raise a concern about my use of your information (and without prejudice to any other rights you may have), you have the right to do so with your local data protection authority.
How to Contact Me
For purposes of EU data protection law, I, Dana Teixeira, am the data controller of your personal information. If you have any questions or concerns, you may contact me at email@abandonambition.com or via my website.